ARMOR
is a French group with sites throughout the world, whose ICP division designs and manufactures inked films used in Thermal Transfer technology.
This technology is for marking bar codes, logos, use-by dates or other batch information on labels or flexible packaging.


Since its founding in 1922 in Nantes, ARMOR has been a pioneer in its principle area of business: printing inks. ARMOR was one of the first companies to manufacture carbon film, then to launch ribbon cassettes for typewriters and subsequently printers, and finally to introduce Thermal Transfer technology into Europe in the early 1980s.

ARMOR ICP is :
• 137 million Euros turnover in 2011,
• Over 760 employees worldwide,
• 5 production sites globally,
• 53% market share in Europe,
• 110,000 Thermal Transfer film rolls slit daily.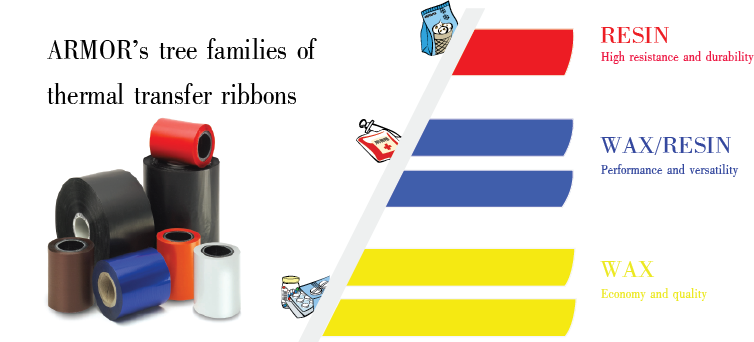 ARMOR's three families of Thermal Transfer ribbons
A comprehensive range of Thermal Transfer ribbons constantly updated to suit your current and future automatic identification applications and exceed market expectations.
Produced in one of the industry's most organised and independently acclaimed factories, ARMOR ribbons benefit from a strong Quality and Sustainable Development culture. It is a guarantee that the ribbons are produced in ethical conditions with a minimum impact on the environment.

For standard applications, Wax quality : AWR® / AWX®
The wax range AWR® / AWX® is an economical identification solution dedicated for «flat head» technology. Its main feature is that it can be used on a wide range of label materials and is suitable for both vellum and coated papers.

This range is recognised as being exceptionally sensitive and densely black. The quality of the backcoating gives excellent protection to the print head. Different versions are available to ensure optimum ink transfer at lowest energy.


The AWX® range is particularly remarkable for its good resistance to smudge.

For premium applications, Wax/Resin quality : APR®/APX®


The main features of APR®/APX® wax-resin range are the high quality of its performances and its wide field of applications. This range of ribbons gives excellent results on coated papers and synthetics (PE, PP, PET…). It has good resistance to smudge, is capable of printing barcodes at 90° and has sharp definition.


This range is recognised for the exceptional quality of its backcoating, which gives good protection to the print head.

For super premium applications, Resin quality : AXR®

The products in the AXR® range are intended for extremely demanding applications. The ARMOR resin ribbon range is made up of high technology products that are particularly recommended for synthetic label materials (PE, PP, PET).


These high performance products are highly resistant: resistant to smudge, resistant to high temperature, to solvents and to some detergents.