Country




Thailand





Industry
Plastic & Metal Closure

Product printed on
Plastic Liner

Which Fiber laser is being used?
F-9050 Pulse Fiber laer, Macsa

Conveyor Speed
100 m/min

Marking Speed
20,000 mm/sec

Frequency
10%

Power


100%



Messages content
1 - 3 lines of text

Number of new Macsa units sold
1


Macsa F-9050
• Fast and Powerful marking laser
• 100,000 hrs laser tube life
• Zero maintenance
• Reliable & Clean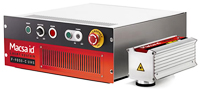 Background
The Crown Seal Public Company Limited is a manufacturer and distributor of Crown, Pilfer-proof, Maxi-Series and Plastic Cap used as container seal for various drinks such as carbonated drink, soy milk, beer, soda water, energy drink fruit juice, liquor, medical supplies, etc. The Crown Seal Public Company Limited is the leading closure manufacturer in Thailand, established in 1968, its production technology supported by Japan Crown Cork (a member of Toyo Seikan Kaisha Group - TSK). Since then, the company has provided superb quality products to the local and international markets with high supply capacity. The recent annual sale was over 2.5 Billion Baht. Through 38 years in closure business, the Crown Seal Public Company Limited has developed an everlasting relationship with its clients by challenging of commitment to quality, enhancing customer satisfaction and using skilled technology supports from TSK Group. The company will make every effort for the bright future closure business.

Why we won?
The MACSA Laser F-9000 series are the Macsa Fiber Laser Systems very flexible system for metal, plastic and Foil marking and coding with a very clear message and no perforation. A Compact system with 100.000 hours of working like. Its compact design with adjustable marking head enables this laser to be installed on even the most complex production lines or in tight spaces where other lasers just won't fit. Dynamic "on the fly" Yag laser marking is a reality with this laser marking and coding system thanks to MACSA's sophisticated software and many years' experience of high speed applications. Superior quality marking provides you with sharper bar codes and more precise logos and technical drawings for product identification. Operator friendly using different user interfaces with special softwares to design and control all your laser marking requirements. Reliable & Clean laser marking and coding technology results in less maintenance and less worries about "downtime".