Country




Thailand



Industry
Tuna Canned

Product printed on
Outter Box

Which TIJ printer is being used?
MiniKey

Conveyor Speed
17 m/min

Resolution
300 x 300 dpi

Print Height


12mm



Messages content
1 line of text

Number of new HSA units sold
1


HSA MiniKey MK-HP4
• Easy to use


• A compact printer


• Low maintenance
• Very low-cost printing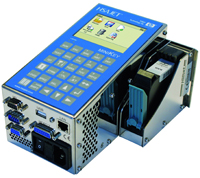 Background
ROYAL FOODS exports to the world the highest quality canned fruits, vegetables and seafoods. Although Royal Foods has only been exporting since 1987 already its products are in big demand in Europe, U.S.A., Australia, and South East Asia. Overseas markets require the highest standards. At Royal Foods, highly qualified staff ensure that all products meet the most stringent of standards. Similarly it's Royal Foods long experience with canning fruits and vegetables that gives this Thai company the competitive edge in the world marketplace. ROYAL FOODS sets a standard based on excellence. An excellence which begins with quality excellence and extends to excellence in service and reliability.
Why we won?
The HSAJET® MiniKey is based upon reliable HP TIJ 2.5 technology which offers consistent, high quality, fast printing. The printer's user-interface is so easy to use, that it requires very little or no training. The MiniKey is a very low-cost printer, yet powerful with all necessary functions available. The MiniKey is an 'out of the box' unit.

Place an ink cartridge in the head, connect to power and print instantly by pushing a button. New layouts are easily made straight from the keyboard or loaded from USB key or via LAN or RS232 connection. The basic unit comes with a ½" printhead with built-in product sensor. The MiniKey can control up to 2" print height. A 320x240 pixel graphical colour display showing intuitive icons ensures a clear understanding when choosing functions from the keyboard.