Country




Thailand



Industry
Pharmaceutical

Product printed on
Inner Box

Which TIJ printer

is being used?


MiniKey

Conveyor Speed
17 m/min

Resolution
300 x 300 dpi

Print Height


12mm



Messages content
3 lines of text

Number of new HSA units sold
1


HSA MiniKey MK-HP4
• Easy to use


• A compact printer


• Low maintenance
• Very low-cost printing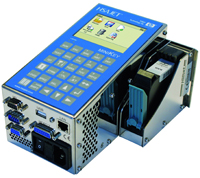 Background
The Sriprasit story began in 1949. At that time, five siblings decided to set up their own family business in the Watsampluem district of Bangkok, having gained experience from working in other pharmacies. Sriprasit Dispensary R.O.P. was established, started out as a small pharmacy. A few years later it was one of the first companies to import pharmaceutical products from abroad. To expand the range of products and pave the way for market expansion, in 1975, Sriprasit Pharma Co., Ltd. was set up to manufacture pharmaceutical products. The company continues to manufacture such products under supervision of the experts. Its products were distributed by Sriprasit Dispensary. Sriprasit Dispensary and Sriprasit Pharma have since become one of the leading importers, manufacturers, distributors and exporters of pharmaceutical products. Sriprasit Pharma's products are exported to South East Asian countries such as Malaysia, Singapore, Laos and Myanmar and South Africa. Sriprasit Pharma was among the first group in Thailand that adopted the GMP standard of pharmaceutical manufacture in 1989, and later was awarded the ISO 9001 version 2000 standard. The company has a policy of maintaining and developing quality standards that are recognized internationally. Sriprasit Pharma's products come in tablets, capsules, liquids, creams and ointments. All production processes meet strict quality control standards.

Why we won?
The HSAJET® MiniKey is based upon reliable HP TIJ 2.5 technology which offers consistent, high quality, fast printing. The printer's user-interface is so easy to use, that it requires very little or no training. The MiniKey is a very low-cost printer, yet powerful with all necessary functions available. The MiniKey is an 'out of the box' unit.

Place an ink cartridge in the head, connect to power and print instantly by pushing a button. New layouts are easily made straight from the keyboard or loaded from USB key or via LAN or RS232 connection. The basic unit comes with a ½" printhead with built-in product sensor. The MiniKey can control up to 2" print height. A 320x240 pixel graphical colour display showing intuitive icons ensures a clear understanding when choosing functions from the keyboard.