Country




Thailand



Industry
Tuna Canned

Product printed on
Outer Box

Which TIJ printer

is being used?


HSAJET® MiniTouch MTHP4

Conveyor Speed
27 m/min

Resolution
300 x 300 dpi

Print Height


10 mm x 2 heads



Messages content
2 lines of text

Number of new HSA units sold
1




HSAJET® MiniTouch


• 5.7" Touch Interface


•

Ease of use


• Fast printing
• High quality of print


•

Low ink signal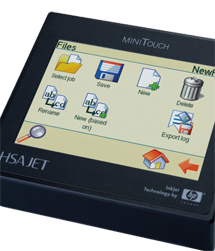 Background
In 1972, an Australian, Thai, and Hong Kong partnership took a leap of faith to build Thailand's first tuna cannery named SAFCOL (THAILAND), LTD., for export. The company's name was changed to Kingfisher Holdings, Ltd. in 1989 and Maruha Corporation of Japan, one of the biggest seafood enterprises in the world, joined Kingfisher as a shareholder in 1990.This partnership has markedly improved Kingfisher access to the Japanese markets and raw material sources around the world.
Over the years, Kingfisher has kept the basic frozen seafood business and set up subsidiaries to focus on canning, can making and fish protein (Southeast Asian Packaging and Canning Ltd., SEAPAC); value added marine products (KF Foods Ltd.); cold storage business (OCCL); domestic sales in Thailand (Kingfisher 108 Ltd.); and an affiliate, (Kingfisher Products Ltd., New Zealand), for international marketing.
SEAPAC (Southeast Asian Packaging & Canning ltd.) As the first tuna canning factory in Thailand under former name, SAFCOL (THAILAND), LTD., SEAPAC has maintained its leading position in technology and skills in the industry. It now has two main factories and produces a wide range of premium tuna products for the retail and food service markets around the world. It has also specialized in premium petfood recipes and has earned a solid reputation around the globe.

Why we won?
HSAJET® MiniTouch is Flexible design, The controller can easily be mounted on a ½" or 1" printhead for sideprinting. This gives you a compact unit with the touch interface right where the print is executed. Print at breakthrough speeds of up to 300 m/min in 300 x 150 dpi. 5.7" Touch Interface Use the touch pen or simply a pointed finger to control the MiniTouch printer. Illustrative, easy to understand icons lead you through all phases of building your printjob making printing simple and fast. We replaced the old technology, Roll Coder. Because it is limited for printing on running and real time.