Country




Thailand



Industry


Food and Beverage



Product printed on


Packaging Film



Which ink jet coder is being used?
Linx 4900

Throughput
80 - 100 pack/min

Messages content
Two lines of text
Mfg. Date & Exp. Date

Number of new Linx units sold


4



Customer comments
Small compact design with no need for factory air

Why we won
Wide choice of ink colors and types


Linx 4900 Printer
• Automated date and traceability coding
• Long-term reliability and consistent performance


•

Weighs only 44 lbs


•

Steel enclosure and IP55 rating

•

No need to stop or open the printer to refill, so production is not disrupted

•

Stores up to 50 messages/codes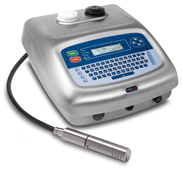 Background
KORN THAI - Driving forces underlying our business operation reflect the facts that we shall exist to manufacture and deliver high-quality products, specifically food and beverage, in order to substitute our country's reliance on imported goods. Towards becoming an active participant in national industrial development, we create local jobs and incomes for Thai workforce, as well as offering choices for Thai consumers to use quality products that are reasonably priced and made by Thai entrepreneur. We have targeted to produce quality, products consistently and reliably. This is our guarantee to every customer that every product is handled by the full of QCR. (Quality, Consistency and Reliability). Not only producing the products under the company's brands, many major distributors and leading department stores such as Tesco Lotus, Big C, Tops Supermarket, Home Fresh Mart and Thai Airways etc, has selected Kornthai's products to be packed under their strong brand names. They believe in our quality, service and responsibility that the company was a long-term co-operator. The company has also supplied to leading restaurants, for example : S&P Syndicate, Globo Food, Gateaux House. For export market, Kornthai has produced and packed over 20 private brands.

Why we won
The Linx 4900 Small Character Continuous Ink Jet Printer provides high speed, high quality 1-2 line printing of alphanumeric text and optional logos. The stainless steel IP55 rated enclosure is designed with no dirt traps and no surfaces for water to rest-ideal for harsh, washdown environments. The sealed printhead valve system combined with intelligent software automates controls to maintain superior print quality and performance with no manual adjustments. True Auto flush at start up and shut down combined with Auto Power down ensures trouble free start ups with the touch of a button. 50 Message store, mistake proof refills, and automation of diagnostics and running parameters are all featured in the best 2 line printer to date. The Linx 4900 can print up to two lines of text and graphics, and is designed for easy, trouble-free operation. Its curvaceous enclosure makes it ideal for washdown environments.