Country




Thailand



Industry
Filter

Product printed on
Filter

Which ink jet coder is being used?
Linx 6900

Throughput
40 pcs/min

Messages content
text, logo, product description

Number of new Linx units sold
1

Customer comments
Full colour screen with simple menu structure

Why we won
Automatic printhead cleaning and printer shutdown


Linx 6900 Printer
•

Wide range of print speeds, to match production line outputs and maximise productivity

•

Tough, wash-proof enclosure with dust proof option – designed to minimise dirt traps and give reliable, clean operation in any environment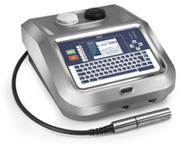 Background
One of the big challenges facing society today is safeguarding the cleanliness of air and liquids. Innovative solutions are called for and Freudenberg Filtration Technologies has the answers. We develop solutions that make processes more efficient, save resources and protect our environment, thereby raising the quality of life. Freudenberg Filtration Technologies is part of the Freudenberg Group and is headquartered in Weinheim/Germany. With roughly 1,700 employees at more than 30 locations around the world, we are one of the global technology leaders and a driving force in the field of air and liquid filtration. Our Viledon and micronAir brands are synonymous with high-quality filtration systems for industrial and consumer applications. Additionally, we offer our customers a comprehensive and wide-ranging service portfolio to ensure that our filter systems provide optimum benefit. We dedicate over 50 years of filtration experience to our customers; in the general industry segment, we offer air filtration solutions for contamination control, emission control, turbo machines and surface treatment. For the automotive industry, we develop and supply filtration solutions for surface treatment systems, engine intake air filters and cabin air filters. Our extensive portfolio of human protection products which includes filters for laser printers, faxes and copiers, filter media for respiratory masks and indoor air cleaners and filters for vacuum cleaners rounds off our air filtration offering. Our liquid filtration expertise covers filter media for coolants and lubricants, oil and fuel (automotive), pool and spa, food and beverages as well as membrane support fabrics.

Why we won
The Linx 6900 provides a flexible coding solution, which is designed to be easy to use in any environment. It has a simple to use keyboard and screen which allow for easy code creation and editing, a robust design for trouble free operation and a powerful feature set to help you meet current and future traceability requirements.