PRINT & VERIFY System



HSAJET® ....matching the demand of
the pharmaceutical industry






Why a pharmaceutical solution from HSA systems?
• One powerful controller - complete integrated solution
• Includes printing, vision and machine control
• ISO 15415 compliant verfication and grading system
• The Print & Verify system provides easy to achieve customer compliance to GAMP and 21 CFR part 11
• Optimum print quality utilizing HP45 thermal inkjet
• Easy and intuitive system operation, with wizard based job creation
• Verification software made in accordance with internation standards
• User level control and full traceability
• Real-time status monitoring and SQL data logging
• Systm configurable for in-line and off-line use or for integration with other systems
• Solutions for both un-folded and folded boxes
• Full and completed system from one vendor, including machine control and HMI. All hardware and software products developed andmanufactured by HSA systems
| | | |
| --- | --- | --- |
| | | Pharma Print & Verify Architecture |
HSAJET® Permium Powerful Controller
The mini-PC controller is the nerve contre of the system. It runs with an intel CORE i7 processor and is based on the proven industrial HSAJET® Premium controller board.

HSAJET® PV Software & HMI
The control centre manages the complete unit, providing real-time status and logging, parameter setting and adjustment with seamless shifting between HMI (Human Machine Interface), Printing and Vision using the simple GUI interface.

Job Wizard


The 'pharma Wizard' is the HSA application to create and edit jobs. It requires no special software sills or complex design software. The wizard provides troublefree creation of Datamatrix codes that follow the GS1 structure.



Datamatrix and text verification


The vision inspection module ensures correct content and quality of a print and that the Datamatrix is in accordance with ISO 15415. All events are logged in the built in SQL database for later review or proof. Text is captured bhy the camera for verfication that can be set to an acceptance score level between 1 & 100.

Fast commincaiton via I/O Connection Panel (LVDS I/O module)
The unit is the interface between the controller inputs and outputs fo rthe ejector, sensors, motors and cameras.



The module gathers from up to 24 inputs and distributes to as many as 16 outputs while monitoring the states of connected units.



Vision System


A complete vision unit with integrated light source and stray light block. Developed and manufactured in accordance with the internation standards for verification and quality control of printed data.

HSAJET® Permium HP Print heads


The HSAJET Premium print heads are based on HP TIJ 2.5 technology, provide high resolution images.



Permium Black Ink for Pharmaceutical boxes
The new HSAJET® K3010 Premium Black ink ensures optimum print image quality for use on pharmaceutical boxes and was developed in corporation with Collins Ink. Produces a crisp and sharp image requiring little maintenace.

Solvent inks for blister packs


There are solvent inks available that are desigened to work on the different aluminium and plastics blister packs.
HSAJET® Print & Verify system


The following pictures show the Print & Verify system being used for box printing. The system below have been built into hardware integrated by HSA OEM partners, the system pictured over page is built by HSA to a customer specfication end to end process.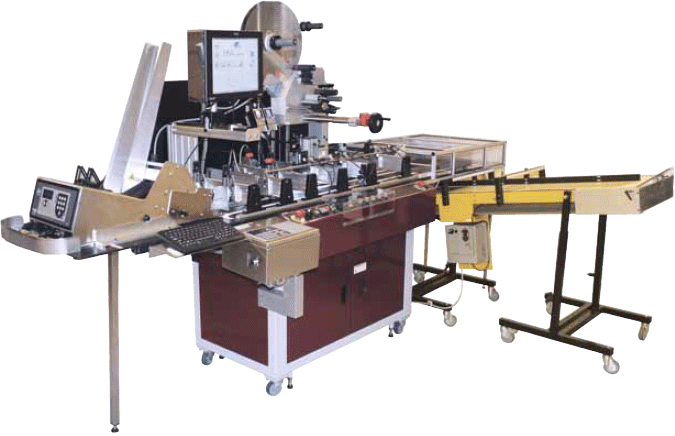 End-to-end solution for print on lay-flat boxes installed at LEO pharma A/S, Denmark.
Feeding of lay-flat boxes > Print of 2D Datamatrix - Logo - Product type - Vision control > Label >
Label position check > Accept or Reject
Summary of HSA Systems solutions for the pharmaceutical industry
• Completed solution comprises printers, cameras, central machine control with print & verfication software, HMI and validation package.

• Printing of pharmaceutical data including the ECC200 Datamatrix code in accordance with the GS1 sysbology standard.

• Verificaiton of imprint, by checking content as well as quality of the printed data, Datamatrix verification and grading in accordance with ISO 15415, text verificaiton and grading with 100 score levels.

• Straight forward customer GAMP cerfication and 21 CFR part 11 compliance.

• Queue management system ensuring that a specific product is always in the right and expected position with reject system for removing failed products.

• Conterproof check of accepted and rejected products, with extensive logging and data management capabilities.

• Solutions with multiple print heads and cameras.



• The HSA solution markes it possible for customer to meet the global harmonisation requirement.
A unique Imprint
HSA Systems is a leading manufacturer of industrial inkjet equipment. We were founded in Denmark in 1993 and our core business is delveloping and manufacturing of high resolution inkjet printers, as well as a range of other products for Coding, Marking, Commercial Printing applications.

We understand that cost is critical to sales success. Our goal is to provide economical high resolution inkjet printing systems. This combined with our wide range of products marke us an ideal partner.

Over the last 18 years, our product portolio bas grown so that we have products for the simplest date coding to the most complex serialization applications and every thing in between.

Our goal of providing cost effective, high resolution inkjet printing systems has enabled us to sell products in most parts of the world.

Technology
Tody, We are Hewlett-Packard/s largest independent industrial printing technology partner in Europe. In addition to HP thermal inkjet, we offer a wide range of Xaar based printheads and an extensive range of accessories for the coding/marking and comercial printing industries.

Service & Support
Service and support is provided through rechnicians and support staff who have all been specially trained on the HSA Systems equipment. HSA Systems appreciate the demand for fast back-up, this why the factory is available always for extended support.

Global Neetwork
Our equipment is available through a global network fo distributors and integrators.

Thanks to these partners, HSA Systems is supplying stand-alone systems and integration kits to companies around the globe.
| | | |
| --- | --- | --- |
| | | |