Country
Thailand




Industry


Automotive Paints and Lacquers

Product printed on
Metal Cans

Which ink jet coder is being used?
Linx 5900 using Linx Black 3103

Throughput
18 metres/min

Messages content
Product Code and Batch No.

Number of new Linx units sold
1

Why we won
• Cost effective coding solution compared to the competitor

Linx 5900
• 3-line coding, USB message sharing and store up to 1,000 messages as standard
• Upgrade as your requirements change

• Predictable service intervals of up to 6,000 hours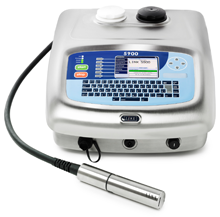 Background
Jax Paints (Thailand) Co.,Ltd. Was established on November 18, 1973. Factory registration number 0105526048585 Located at 497 Soi Judsun Uahwattanaskul, Suanluang, Suanluang, Bangkok.
1976 : Started production of Decorative Paints "NEW LIFE" Stoving Enamel for bicycles "PHEASANT" and roof tile paints.
1978 : Started production of "GLASSO" Automotive Lacquers under license from GLASURIT GMBH,Germany. Market was expanded by dealer to Cambadia and Vietnam.
1981 : Started supplying "GLASSURIT" automotive finish to OEM; Thai Swedish Assembly (TSA) manufacturer of "VOLVO" passenger cars.
1989 : Started production of low baking type enamel for Thailand biggest manufacturer of car radiators and petrol tanks. "Thai Radiator Manufacturing Co.,Ltd."
1991 : Started production of polyurethane enamel for the world biggest manufacturer of surfboards "COBRA INTERNATIONAL Co.,Lttd."
1992 : Started supplying "GLASURIT" automotive finish for "Thonburi Automotive Assembly Plant (TAAP)" 'Mercedes Benz" car manufacturer in Thailand.
2001 : Started production of special polyurethane enamel for commercial vehicles (SPU-LINE) "JAX"
2009 : Started production fo "High Buid Polyurethane Enamel" for military verhicles.

Why we won?
The Linx 5900 is proving its reliability, and with the extended 6000 hours between services the customer loves the printer even more. With production running for up to 10 hours a day, 50 weeks a year, the customer needed a printer that was reliable and durable in their production environment.