Country
Thailand

Industry
Sweet & Dessert

Product printed on
Sealing Film (PE Film)

Which ink jet coder is being used?
Linx 7900 with traversing system

Throughput
36 Cups/min

Messages content
2 Lines of text

Number of new Linx units sold
1 unit

Why we won

•
Quicker code changes, lower cost of consumables



Linx 7900
• Low cost coding solution - up to 9,000 hours or 18 months between servicing
• Linx Insight
®
enables remote monitoring from a smartphone
• Mistake-free message editing provided by customisable on-screen prompts to reduce coding error.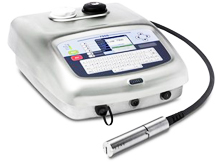 Background
Jaojuk or NCC. Product Co., Ltd. is SME for Milk Curd & Jelly Pudding Fruit Salad manufacturer. The owner is Ms.Yanee and setting the business since 1998. Row house and was impressed by the taste of milk. This is the only place in Phetchaburi province. The Bangkok It is not known much. We think that this product is made in Thailand. Developed milk curd from the bundle in a plastic bag and tied with a rubber bowl sealed with plastic film hygienic prevalent to the present. To meet the needs of consumers at all times. Our products are preferred by consumers over time. Milk and tofu products Jelly Pudding Fruit Salad celebrated remains committed to developing new product according to FDA standards. Produce safe food for consumers continuously. The training staff in the awareness of manufacturers. Have the knowledge and training before starting work on the project of the government. In the course gives employees greater consumer awareness. It also received support and consulting, packaging and products from Seven Eleven (7 Eleven) to one another.
For regular tofu, milk, shelf life for 6 days, but with the development of the manufacturing process to increase the life, tofu, milk products consumption for a period longer safe. Currently, the shelf life is longer than about 10 days, this will make more sales.
Unique Solution?
Linx printers have met the most exacting demands of Jaojuk. The Linx insight software, enabling remote printer status view via mobile phone or PC, has also made the work significantly easier. "Linx Pritners are able to operate under the difficult conditions that are typical of our work. Currently, the printers fully meet our needs - we do not have any complaints,". Khun Yai, Managig Director at NCC Product Co., Ltd.