Country
Thailand

Industry
Hygiene | Personal Lubricants

Product sealing
K-Y UltraGel Cap

Which Enercon Induction Cap Sealer is being used?
Super Seal

™

100



Throughput
90 Bottles/min

Sealing head design
Tunnel

Number of new Enercon unit sold
1 unit

Why we won


•

Compact, all-in-one sealing system mounts easily over the conveyor


•

Air-cooled operation at full production speeds


Super Seal

™ 100




• Low cost coding solution - up to 9,000 hours or 18 months between servicing


• Seals at line speeds in excess of 25m/minute


•

Power supply electronics enclosed in an IP65 compartment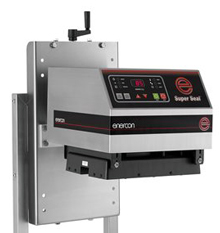 Background
For such a fast-paced, entrepreneurial business some are surprised to learn the company's history spans 150 years of innovation for consumers across the world. With a German and British heritage, RB's commitment to producing top quality, trusted medicines, medical devices, hygiene and other home products has shaped its history of strong financial performance coupled with social responsibility. RB is a true leader, in market terms and financially. Its strategy is simple: Powerbrands driven by innovation, rolled out globally & heavily marketed. RB is a genuinely global force and a truly multinational company. In 2013, we sold 20 million products worldwide, daily.
Unique Solution?
Super Seal™ - Induction Cap Sealing Machine. The most popular induction cap sealing machine in the industry. The Super Seal™'s reputation for reliable performance is well deserved. These remarkable induction cap sealers have sealed over 5 billion containers at production facilities around the globe. Superior mechanical and electrical design make these sealers the most popular choice of packagers looking for reliable performance and ease of operation. The compact all-in-one power supply and sealing system requires little floor space and virtually no maintenance. Enercon's expertise also plays a significant role in the successful application of the Super Seal™ technology. Our engineering team has developed an assortment of custom sealing heads to meet almost every cap sealing requirement imaginable. Matching the sealing head to an application optimizes productivity and efficiency.

The base model Super Seal™ induction cap sealing machine is loaded with features that meet the requirements of most applications head-on. Standard microprocessor control and convenient plug-in induction sealing heads have recently been added to enhance the machine's performance.