Country




Thailand



Industry
Pet Food

Product printed on
Cardboard / Outer Box

Which TIJ printer

is being used?


HSAJET® MiniKey

Feeding Speed
15 m/min

Resolution
300 x 300 dpi

Ink Type


HP1918



Messages content
1 line of text

Number of new HSA units sold
1
HSAJET® Minikey
• A compact printer with integrated printheads


•

An 'All-In-One' printer
• Trouble free user interface
• Advanced administrator options in software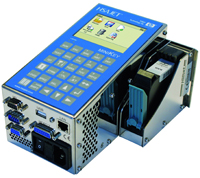 Background
Pataya Food Industries Limited was founded in 1979, on the principle that 'consistent quality assures success'. The company's dedication to achieving high quality is evident at every stage of the manufacturing process and can be fully appreciated in its products. This commitment to quality has become recognized internationally.
We have four marketing centers in Thailand, Vietnam, France and China. These are the main channels of distribution for the company's 'Nautilus' brand. Our marketing centers are fully backed up by our manufacturing plants in Thailand and Vietnam. Apart from our brands; Nautilus, Sea crown, Mongkut Talay and Lilly, Our OEM business has also developed into supplying the best quality of products. Our customers represent the best and most recognizable brands, in each market we supply into. We are proud to be associated with them.

Why we won?
The HSAJET® MiniKey is based upon reliable HP TIJ 2.5 technology which offers consistent, high quality, fast printing. The printer's user-interface is so easy to use, that it requires very little or no training. The MiniKey is a very low-cost printer, yet powerful with all necessary functions available. An 'All-In-One' printer, The MiniKey is an 'out of the box' unit. Place an ink cartridge in the head, connect to power and print instantly by pushing a button. New layouts are easily made straight from the keyboard or loaded from USB key or via LAN or RS232 connection. The basic unit comes with a ½" printhead with built-in product sensor. The MiniKey can control up to 2" print height.