Country


Thailand

Industry
Plastic

Product printed on
Paper Tag

Which TIJ Inkjet Printer is being used?
HSAJet MiniTouch, 4 Pens

Throughput
38 m/min

Messages con
Logo and Text

Number of new HSAJet
units sold
2 completed solutions

Resolutions
300 x 300 dpi



HSAJet MiniTouch MTHP4
• 5.7" Touch Interface
• Use the touch pen or simple a pointed finger to control th MiniTouch printer
• Illustrative, easy to understand icons lead you through all phases of building your printjob making printing simple and fast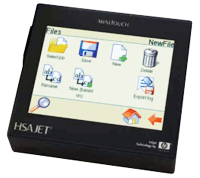 Background
K.R. Plastic Industries Co., Ltd. was established in Thailand in 1991 as a joint venture company between Khon Kaen Fishing Net Factory Co., Ltd. and Rai Hsing Plastics Group, a leading Taiwanese company in the production of machinery and synthetic fibers for more than 40 years. K.R. Plastic Industries Company has imported modern technology and machinery from Rai Hsing Plastics Group to use in the production process. Since its inception, it has had the production capacity of more than 3,000 tons a year. With the current modern technology and high production capacity we are sure that we can supply our customers all over the world with international standard quality products through the efficient delivery system.
Our main products are Mono Filament Products, Taper Filament Products and Special Properties.
- Mono Filament Products Our fibers are made from various kinds of plastic resins, such as Nylon 6, Nylon 66, Nylon 612, PP (Polypropylene), PET (Polyester), and PBT (Saturated Polyester), etc.
- Taper Filament Products Produces PINEX® or TRIEX® taper monofilaments for tooth brush, artist brush, cosmetic brush etc.
- Special Properties of KR and KRF Filaments.
Why we won?
Robust design - The elegant black aluminium-casing underlines the robust design making it perfect for installation in production environments. The USB port is found on the side of the MiniTouch. A small cover protects it when not in use.
5.7" Touch Interface, Use the touch pen or simply a pointed finger to control the MiniTouch. Illustrative, easy to understand, icons lead users through all phases of building a print job making printing simple and fast.
Easy to integrate and use, With its small size, the controller fits where you want it. With the printheads mounted externally the printer can be used for downprint as well as sideprint. The compact version (MiniTouch and side/low printhead) gives you controller and printhead in one unit making it ideal for side printing eg. on boxes.