Country


Thailand

Industry
Packaging

Product printed on
Paper & Fiber Drums

Which TIJ Inkjet Printer is being used?


HSAJET

®

MiniTouch, 4 Pens

Throughput
15-20 pcs/min

Messages con
Logo and Text

Number of new HSA
units sold
1

Resolutions


300 x 300 dpi

HSAJet MiniKey MTHK4
• Easy to integrate and use
• 5.7" Touch Interface
• MTHP4 can control up to 2" print height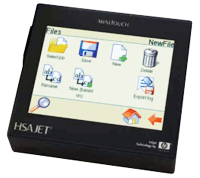 Background
Fibre Pack Co., Ltd. (V.S. Group), we take pleasure to introducing ourselves one of the leading manufacturer of Fiber Drums. WE are established ourselves as foremost supplied of fiber drums. Our manafacturing site located at Chainat Province, Thailand "Manufactured completely from fiber board with no metal or plastic parts 100% recyclable".
Why we won?
Touch Controller ideal for integration on packaging line - webs - inserters - folders - collators
5.7" Touch Interface
Use the touch pen or simply a pointed finger to control the MiniTouch printer.

Illustrative, easy to understand icons lead you through all phases of building your printjob making printing simple and fast.
Flexible design
The controller can easily be mounted on a ½" or 1" printhead for sideprinting.

This gives you a compact unit with the touch interface right where the print is executed.
Choose from ½" - 2" printheight (12.7 - 50.8 mm)
The HSAJET® MiniTouch MT-HP4 can control up to 2" printheight.