• Lifetime technical support

•
Trouble-free setup, operation and maintenance
•
Technology that will increase line speeds
•
Improved pack presentation, product integrity and reduced downtime
•
Guaranteed soft, supple air tight seals, time after time, year after year
•
Reduced bacterial contamination risk
•
Improve transport capability and storage

The Milk Industry were "early adopters" of hermetic foil sealing and today, just within the UK, the milk industry is supplying a phenomenal 2.8 billion plastic bottles of milk every year to the major supermaket outlets!

However, some 15 years ago, the UK milk industry were incurring between 1.5% and 2% wastage. This was approximately 56 million litres of milk lost through cap leakage that occurred during the production and transportation processes.

As well as the milk wastage, there was over 3,300 tons of plastic wastage - the equivalent of over 100 MILK TANKERS!!
The effect of this wastage together with tougher market competition, fuel and energy costs spiralling, it was begining to impinge the milk producers profits.

It was clear that an alternative closure was required - hence the development of the hermetically sealed bottle.
WHAT A DIFFERENCE A FOIL MAKES!

•
Since adopting Foil sealing:-
•
Scrap now 0.5% or less than annum
•
A cost saving of 56 million litres milk and 3,300 Tons of plastic bottles every year!
Over these past 15 years the UK milk industry has adopted the Cap Sealing policy which today has resulted in:
•
increase profits by 1.5%
•
returns and scrap down by 2%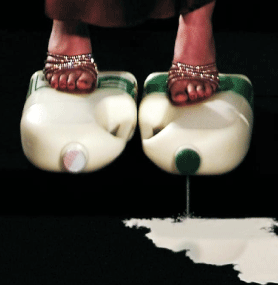 PROFITS UP!
- SCRAP DOWN!
In recent years many industry sectors have found a way to use foil sealing - not only for the cost savings that are to be made, but also for the vast gains to be made in reducing cap and bottle weight.
To find out how Enercon induction cap and foil sealing systems can help your business.