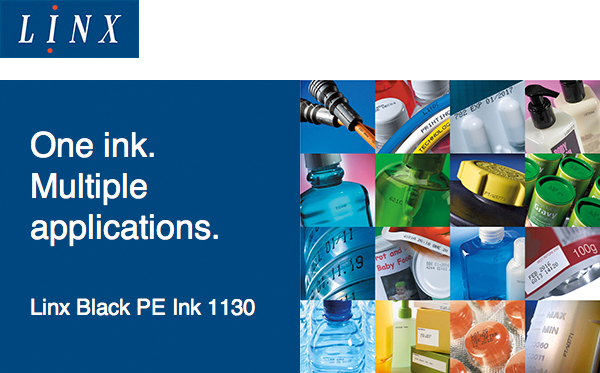 VERSATILE INK PARTICULARLY SUITED TO POLYETHYLENE
Coding specialist Linx Printing Technologies has introduced a new ink to its range that offers excellent adhesion to polyethylene (PE) and most polypropylene (PP) applications, and which is suitable for non-contact food packaging in line with Swiss Ordinance 817.023.021, the European reference for food packaging inks.
Linx Black PE Ink 1130 has been formulated in particular to meet the specific challenges of effective printing onto polyethylene and polypropylene, which are widely used materials in many different end-markets and packaging applications, such as food, pharmaceutical, cosmetics and personal care, automotive, cable and wire.
"PE and PP are traditionally challenging substrates to adhere to, due to their low surface energies," explains Ndidi Ihekwaba, Product Specialist, Inks, Linx Printing Technologies. "Linx Black PE Ink 1130 is able to overcome this challenge and creates excellent adhesion to these substrates, ensuring a quality code each time."
In addition, because the ink also offers a durable adhesion profile across many other substrates – including ABS, acrylic, aluminium, glass, HDPE, LDPE, PET and varnished card – it gives manufacturers the flexibility to retain a single ink, rather than multiple types, on site for use across all their package and product coding requirements.
Linx Black PE Ink 1130 provides excellent print quality and is fast drying to deliver clear, readable codes in even the harshest of production environments.
The ink can be specified with all new Linx 5900 and Linx 7900 printers incorporating Midi and Ultima heads.


Black PE Ink 1130
• Excellent PE and PP adhesion
• Conforms to Swiss Ordinance 817.023.21 making it suitable for food packaging applications
• Durable adhesion profile across a range of plastic substrates
• Excellent print quality
• Fast drying
• Available on micro printheads
• Target industries include:
• Pharmaceutical
• Cosmetics
• Confectionery
• Beverage
• Extrusions
• Cable
• Food Packaging