Country
Thailand

Industry
Snack Food

Product printed on
Flexible film package

Which ink jet coder is being used?
Linx 7900

Throughput
22 Meter/Minute

Messages content
2 Lines of text

Number of new Linx units sold
1

Why we won


•

Linx 7900 reduces the risk of costly error and cuts the time required to switch products, making i ideal for frequent changovers on busy production lines.

Linx 7900
• Minimise downtime
• Minimise mistakes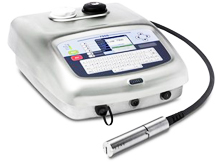 Background
Media Food Co., Ltd. was establised in year 1995. We are aim to develop our snack food products under band "KAEW". Our famous products are Crispy Rolls with many flavored such as spices, durian, coconut and jackfruit. Now a day we are exporting our products to many country both of Europe and America markets. We are acheived the certificated GMP/HACCP since 2012.
Unique Solution?
Linx 7900 continuous ink jet printer is providing reliability and flexibility to meet leading snack food manufacturer Media Foods (Keaw) coding/marking requirements across the company's wide range of famous products as well as premium own-brand snack food. The installation of the one Linx 7900 to replace the hot foil printer. The machine is used to print up to two lines of information including expiry date and lot number onto flexible film packaged. The printer is in use for at least 12 hours a day, six days a week, coding up to 40,000 pack per day. Production ramps up significantly to meet seasonal demand and the reliable performance of the coders is therefore critical to help Media Food.

The Linx 7900 has a range of capabilities to help food manufacturers print perfectly, minimise mistakes and even measure production output. Its software delivers quick, time-saving changeovers between products or messages, while simple automated set-up helps ensure users get it right first time.