Country




Thailand



Industry
Pharmaceutical Industry

Product printed on
Label

Which TIJ Inkjet Printer is being used?
HSA MiniKey,1 Pen

Throughput
25 m/min

Messages con
2 lines of text

Number of new HSA
units sold
1 printer with 1 pen

Resolutions
300 x 400 dpi


HSAJet MiniKey MTHK4
• High quality printing
• Fast printing
• Ease of use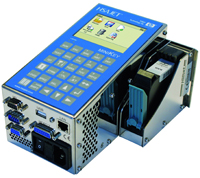 Background
Jisprapat Limited Partnership or Cher-aim Herbal Brand located 430/31-32 Issarapap Road, Bangkokyai, Bangkok 10600. Jisprapat ordinatry partnership has been producing herbal medicine since 2005. We are SME (small and mediam enterprise) and develping our product for oversea maket. Our products are 100% Organic Pure Essential oil. The well know product is Herbal Clinacanthus Nutans Balm 22g (0.78 Oz) Cher-aim brand Thai Herb Green Balm. This Green balm is made with natural herbs of Clinacanthus Nutans of thailand, these herbs have long been regarded by Thai massage therapists as one of the best component of oil or balm for pain relief and muscle problems.
Why we won?
MiniKey printer based upon HP TIJ 2.5 technology | The HSAJET® MiniKey is based upon the reliable HP TIJ2.5 technology, which offers consistent, high quality, fast printing. The printer's user-interface is so easy to use, that it requires very little or no training. An 'All-In-One' printer The MiniKey is an 'out of the box' unit. Mount an ink cartridge in the head, connect to power and print instantly by pushing a button. New print-messages are easily made - straight from the keyboard or loaded from USB key or via the LAN or RS232 connection. The basic unit comes with a ½" integrated printhead with built-in product sensor. For this application, we integrated MiniKey with local supplier in Wrap Around Labelling Machine. Our customer is satisfaction both of print quality and easily to edit and creat the message.