Country
Thailand
Industry
Food
Product printed on
Food card carton
Which ink jet coder is being used?
Linx 5900, 1014 Ink and 1505 Solvent
Throughput
28 - 35 m/min
Messages content
2 lines of text / Lot Code, Time & Mfg, Date
Number of new Linx units sold
1
Why we won
• Low annual maintenance costs

• IP55-rated wih a curved stainless steel enclouse

• Linx Insight
®
Linx 5900
• 3-lines coding, USB message sharing and store up to 1,000 messages as standard.
• Upgrade as your requirements change.
• Predictable service intervals of up to 6,000 hours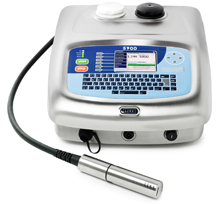 Background
Driven by the legacy of our innovative founder, W.K. Kellogg, the Kellogg Company is the world's leading producer of cereal, and a leader in cookies, crackers, and savory snacks production. Every day, our well-loved brands, delight families in more than 180 countries. With annual sales of more than $14 billion, our brands include Cheez-It®, Coco Pops®, Corn Flakes®, Eggo®, Frosted Flakes®, Keebler®, Kellogg's®, Mini-Wheats®, Pop-Tarts®, Pringles®, Rice Krispies®, Special K®, and many more. Today Kellogg announced a new partnership with leading food company,Tolaram Africa to develop snacks and breakfast foods for the West African market. This joint venture significantly increase Kellogg's presence in the growing African market. This is an exciting time to grow with you.

Unique Solution
With qualiy being at the heat of their manufacturing, it was important that their choice of coder provided the best quality print, as well as meeting the hygiene and speed requirements of production line. Four Linx 5900s, supplied by PT Asia, has been added to the existing complement of Linx CIJ printers at Kellogg, and are used to print traceability codes onto inner boxes of Cereal, Bars and Fruit Flavored Snacks.

Customer opinion
The Linx 5900's automated date and traceability software creates the date, with Kellogg own production system providing the rest of the data for the traceability codes. The IP55 rating of the Linx 5900 means that the printers can be safely washed down with the rest of the production line equipment at the end of each shift. The curved stainless steel enclosure allows liquids to run off without creating any 'dirt traps', thus meeting the company's strict hygiene requirements. The Linx 5900's self cleaning printhead means that the printer is ready to print first time, every time, which gives Kellogg a reliable printing solution with high quality codes.