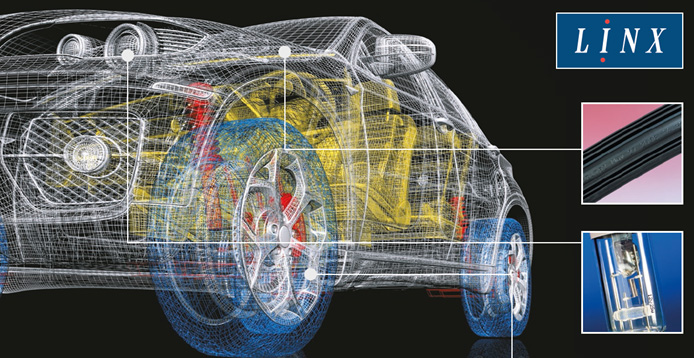 Automotive Marking & Coding Solutions for the Automotive Industry
With a modern vehicle containing thousands of individual components, each of which may need a specific part number, trust in Linx to provide the right automotive coding solution for your needs.

No two coding applications are the same, but durable, clear and accurate codes are a given – whether for monitoring components through the assembly process, for stock control, anti-counterfeiting, or to meet customer expectations.

Direct part marking, especially with the use of 2D codes, can combine with the use of vision systems to make the traceability process as smooth as possible. The cost to a vehicle manufacturer of dealing with the consequences of a defective part can be huge, taking into account not just recall costs, but possible fines, loss of share value and damage to reputation

Hard Working and Reliable

Coding environments can be harsh. Changing temperatures, combined with water, and carbon dust can all affect the reliability of any coder, which is why Linx offers up to IP65-rated stainless steel enclosures on its laser coders and CIJ coders to ensure the minimum of downtime on your line.

Reduce the risk of code errors with Linx easy-to-use coders. Simple interfaces combined with features such as automated message selection and remote monitoring makes message creation, editing and selection quick and simple.

Robust Traceability

Specialist Linx inks for CIJ coders can withstand even the harshest production processes – resistance to heat, dust or oil can deliver longer-lasting codes. Linx high contrast pigmented inks offer excellent code clarity and durability right the way through to end use.

For internal traceability a range of CIJ inks is also available for discreet or removable codes.

Linx laser coders, currently used throughout the automotive industry - with the widest range of configurations – can deliver ultra-reliable, permanent codes onto a wide range of materials at high line speeds, including rubber and plastic. 2D codes required for automotive traceability are effectively delivered by laser coders.


Primary Coding Continuous Ink Jet (CIJ) Printers

Perhaps the most cost-effective choice for automotive marking and coding, CIJ maintains an important place as it can print on almost any substrate. A wide range of inks are available to use with CIJ printers including coloured inks to ensure legibility on any colour substrate. Many more inks are available, such as UV-readable inks for anti-counterfeiting or water-removable inks for internal traceability, adding yet another dimension to the coding process.
For applying codes as small as 1.1mm high, for example onto electrical components, the Linx 7900E CIJ printer is highly recommended with an IP55 rating as standard and a specialist ink which resists alcohol and has excellent adhesion to ceramics, metals and a wide range of plastics.

When dust is present in the production environment, then we recommend choosing a printer with a higher IP rating, such as the 7900 spectrum printer, which comes with IP65 rating as standard, and also uses a range of pigmented inks for superlative clarity and durability on a range of colours and materials.

Linx Inks for the Automotive Industry

Pigmented inks in a range of colours from white, grey and yellow through to black and blue are available with Linx CIJ printers. These inks contain a level of pigment and provide good heat tolerance, light-fastness and resistance to solvents. Specialist inks developed specifically for the automotive industry includes a Black UV-cure ink – this ink is particularly resistant to solvent and abrasive processes found in many automotive coding and marking applications, as well as in the aerospace industry.


Laser Coders

Particularly strong at delivering the 2D codes commonly required for effective automotive traceability, laser coding also provides a permanent code on a wide range of materials at high line speeds, including rubber and plastic, for example on rubber door trims or windscreen wipers

As there is no ink involved in the coding process and therefore no drying time, the risk of smudging is eliminated, allowing for accurate, error free coding for example when the coded product is in contact with other products or handling systems soon after coding. Linx Laser coders are particularly attractive due to their low downtime, high-speed capability and the long tube life – making their long term cost of ownership very low.

Secondary Coding
Aside from vehicle components, the automotive industry often requires coding and marking solutions for other uses, such as component packaging including cardboard boxes. These outer cases usually require text and graphics which are easy to see. Linx Large Character Printers provide a high resolution printing and are easy to set up and adjust, offering a cost-effective alternative to pre-printed boxes or labels.
Key Benefit

• Robust traceability
• Up to IP65 ratings
• Reliable operation in hot, dusty, wet or non-temperature controlled environments
• Easy to use printers for accurate coding
• Range of solutions for durable coding onto most materials