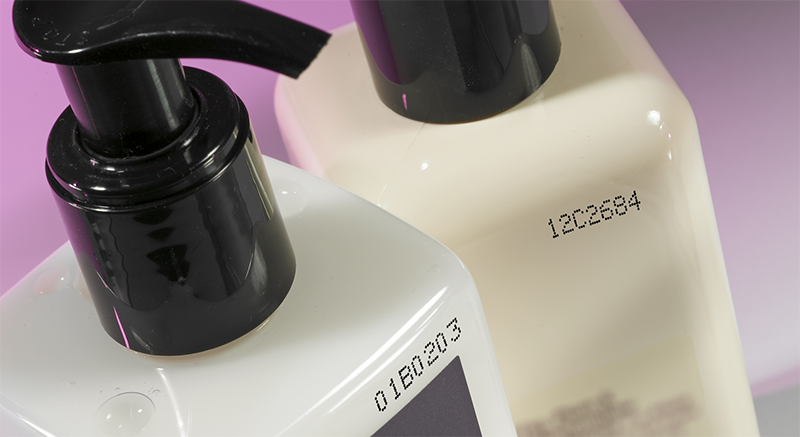 Personal Care & Cosmetic Product Marking Solutions From Linx

The cosmetics, beauty and personal care sector is a still expanding market, worth $421.2 billion in 2012 and forecast to grow during the period 2013-2018 at a CAGR of 4.9% *
Discover more about Linx coding solutions for the personal care industry via the buttons above.
This growth is influencing product and packaging design, for example:
• Bespoke container designs, niche vintage branding and enhanced decoration all help products to stand out on a crowded shelf
• Ageing populations are influencing package functionality, such as easy-grip containers
• Size polarisation from small travel size or tester pots, through to larger volume, economical packs for everyday products such as shampoos
Legislation such as the EU Cosmetic Regulation 1223/2009 affects all personal care packaging companies, and requires certain information to be printed or labelled on packaging as well as an ingredient list. Whilst some of this information can be pre-printed, there is still the need for variable information such as lot codes and batch numbers to deliver effective traceability
With so many different pack formats and material types, trust Linx to help you identify the right coding solution for you, to meet your customers' needs, legislation and help to reduce your overall production costs.
Flexible coding
Light, portable printers such as the Linx CJ400 and Linx TJ725 enable new lines to be set up quickly as and when you need them. Both printers have the capability of coding primary and secondary packaging, making them flexible options.
Code quality and full traceability
All Linx solutions offer consistently high quality readable codes that maximise uptime and avoid the costs of recalls or reworking.
• Linx Black PE ink 1130 codes reliably onto plastics including HDPE
• Linx lasers deliver excellent quality, permanent codes onto all colours and types of materials. The Linx range of Fibre lasers even codes onto bare metal

Cost
The initial purchase price is just one factor in assessing the value for money of a particular machine. The renowned reliability of Linx coders maximise uptime and can make an important contribution to Overall Equipment Effectiveness (OEE).
• Linx's industry-leading sealed printheads deliver consistent, reliable coding with the lowest cleaning rate in the industry.
• Linx coders are available in a range of IP ratings for minimum downtime in wet or dusty environments
• Self-service modules on the Linx 8900 and Linx CJ400 save time and money on servicing
• Linx lasers use much less laser energy than other models in their class, extending laser tube to over 100,000 hours on the Fibre lasers to further reduce running

* Smithers Pira, The Future of Personal Care Packaging to 2018
Whether you are coding onto plastic bottles, jars, cosmetics cases, pumps, or sprays Linx will have a coding solution which is ideal for you.


Key Benefits
Specialist inks for superior adherence to glass and rigid plastics

Future-proof software to ensure you keep up with new coding demands

IP55/65 rated equipment ideal for reliable coding in dusty environments

Clean, and easy to maintain with minimal intervention